Which brings us, of course, to my arrival in the city -- and what I've been doing ever since.
On the Job
I started my job as Assistant Culture Editor at The SF Bay Guardian the day after I arrived - a classically Molly move that actually turned out okay. The building, an old candy factory in Potrero Hill, is amazing. My coworkers are kindred spirits, especially my immediate supervisor, Marke B. (whose duties I'm taking over so he can focus on the web) and my friend Steven T. Jones, who I met at
an AAN conference several years ago. And the work I'm doing is fun and challenging. Since being here, I've already edited most of the stories in the special Sex issue, assigned stories for the upcoming dining pull-out, blogged a bit on the company culture blog, had after-dinner drinks with Steve
(and sometimes his lovely g.f. Alix) several times (most notably at Bloom's Saloon (pictured left) which has a fantastic view of the city out its back window), and had lunch with Marke B. at the strangely named Thai restaurant up the street from the office, San Francisco Bar-B-Que. I come in around 10:30 or 11. I leave around 7 or 8. I take cigarette breaks on the roof, with a 280 degree view of the Bay, or downstairs, where I look at the mural painted on the side of the building (pictured right). It's pretty much my ideal job.

Happy Birthday, El Norte...you fucker.
Of course, my first day at my fantastic job wasn't enough excitement for one 24 hour period. Oh no. My fri
end Michael Northen (pictured left), the nanoscientist/TV host by day who is a Wild and Crazy Guy by night, had to turn 30. And celebrate. In Style. We got crazy at Crazy Sushi. We transferred the party over to The Transfer. And then the night turned a corner into one of those fantastic, dreamlike, nocturnal adventures that takes days to recover from but lives forever in our minds. Basically, a North-style event. If only Jodey and I hadn't both had to work first thing the next morning. Nothing like a cracked-out second day of work, right? (I was sure this city was going to kick my ass. Luckily, I've discovered that it's just North who is going to kick my ass. The city actually moves at a much slower pace than he does.) See more photos (nothing too juicy. sorry.) from that infamous night here.
Raw: Another Night With North
I should be fair to North. Though he has the potential (and stamina, and endurance, and constitution) to go longer and farther than most people I know, this is true in all capacities: hard work as well as partying,
commitment as well as chaos. He's sweet, compassionate, intelligent, interesting. He's a good friend. And his name shouldn't necessarily be synonymous with Capital T Trouble. In fact, I didn't get into any trouble at all when I met up with him a few days later. Rather, I enjoyed a delicious raw meal prepared by Dar at Kristian's house, before climbing under Kristian's electric blanket for a short disco nap while he and the others ate (drank?) raw chocolate shakes. I dragged my tired ass to Mezzanine, where I ended up happy to dance -- and also happy to leave. Then I went home and went to sleep at a decent hour. See? Not so bad at all.
The Marathon
Part of the motivation, of course, was having something important to do in the morning. My friend Jodey was running a half marathon as part of a charity effort, and a few of us decided to meet her at the finish line. (It was the least we could do, right? I mean, it's not like we were going to run.) We approached the course smoking our cigarettes and wearing our black rocker-wear just in time to see Miss Jonsey come around the bend. And just in time to take her to Cole Valley for Bloody Marys (bad) and Poached Eggs (good) at Zazie. (More photos from the marathon here.)
The Office Party
The rest of my week was busy busy busy. Looking for houses. Finishing a story on All That Remains for Revolver Magazine. Driving to Car-Free Happy Hour (yes, I see the irony in that). And then the Office Party.
And by "Office Party," I do mean "a party in my office:" A DJ. Three beer bars. A wine bar. An Irish Coffee bar. A table set up by Good Vibrations. Pans of free Indian food. City councilmen and cityslicker hipsters. It was, hands down, the best Office Party I've ever been to. And definitely the first one I bartended at. After the party, we all went to a bar up the street, and then another in the Mission where our Art Director was spinning. A few hours and whiskey shots later, many of my coworkers were spinning too (in a different way, of course). And Friday morning, when I arrived at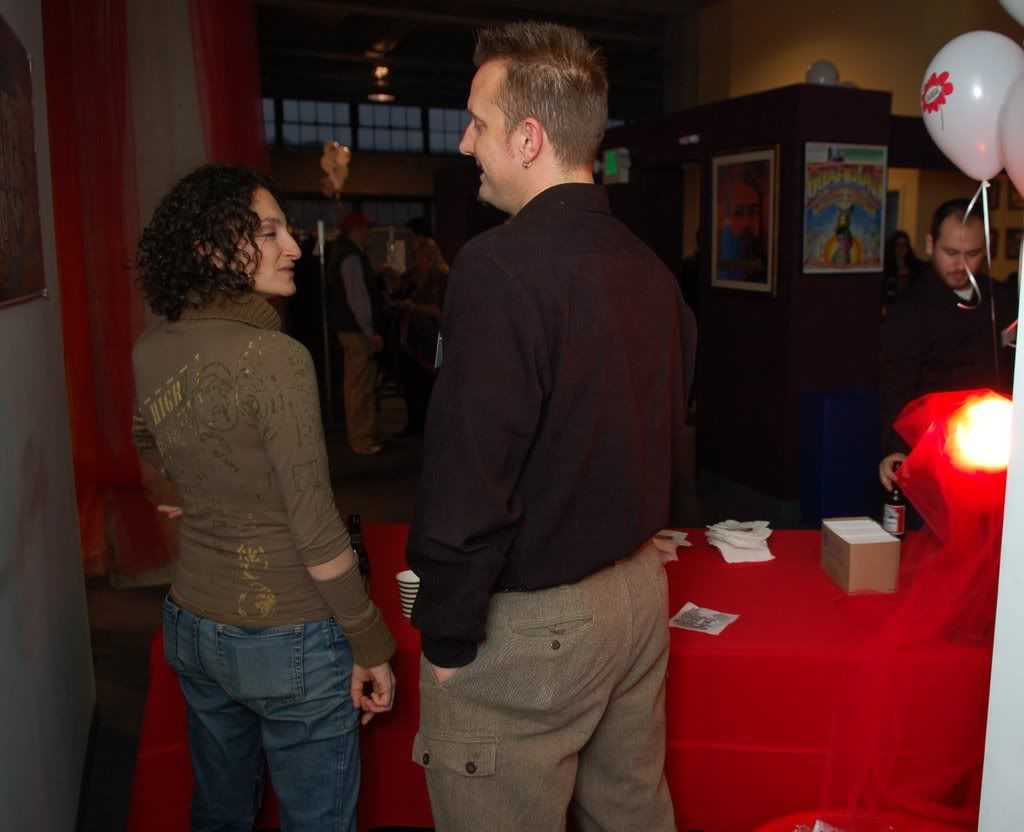 1:30pm (I'm using the term "morning" loosely here), the place was desolate. A couple reporters upstairs, a couple sales people downstairs, a heap of bottle caps outside the back door and streamers strewn across the carpet. All our work was already done. Everyone had partied the night before. And everyone understood that both were true. Passionate about work. Valuing play.

I am so in the right place.
The Rest ... (but still no rest)
And after that? Seeing house after house. Packing and unpacking at all the various homes where I've occupied couches or spare rooms (thanks to Siobhan and Eddie, Marcus and Linda Lou, Jen and Dan, Blaine and Blaine). Moving my car before I get a parking ticket. Shopping for Tiger Bars and instant soup cups. Visiting Mighty Galleries with Mighty Marina, stopping by the Opel Productions Valentine's Ball with Siobhan and Eddie, seeing more and more houses, eating breakfast at the strangest rest
aurant in the world with Jeff (who came up for a friend's birthday party last weekend), buying a gorgeous brown suede hooded jacket I can't afford (even though it was only $30), and stopping by a Guardian-sponsored Campber Van Beethoven show at 12 Galaxies (where I hung out with Siobhan, Eddie, and Scott from the tech dept.)


And now. Waiting til late at the office because we have early deadlines (thanks to Monday's holiday). Then Karaoke with the music dept. Then houses houses more houses. Dog sitting for the editor's best friend. Siobhan and Eddie's housewarming. More houses. More houses. Dinner with Ms. Laurie McMazer. And then? Back to work again.
Sheesh. No wonder I'm tired.